"Trust is SUPER Important"
As a non profit it's important to have partners that understand the work you do and the individuals that you support. Jayhawk has really been a joy to work with. They are always pleasant and helpful, even when I ask a lot of questions, and they are super supportive and responsive to our needs. With our population it's key to have a partner that we can trust the quality of the work they do, and we certainly feel that way about Jayhawk Fire Sprinkler. Thank you for helping us keep those who need us most safe.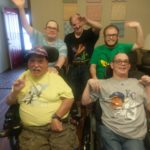 Janel Bowers
"One of the Best Decisions Made"
When joining US Toy Company 5 years ago, I was tasked with reducing costs in the distribution facility.  After soliciting bids for the maintenance and upkeep of the fire sprinkler system, I chose Jayhawk.  Turns out Jayhawk was one of the best decisions I made.  Shortly after choosing Jayhawk, the main water line bringing water to our fire system broke through the parking lot.  Jayhawk coordinated contractors and oversaw the project from start to finish.  On that very day the repairs were made to both the fire line and the parking lot.  Recently Jayhawk worked closely with the city Fire Marshall to ensure our fire systems were in compliance.  Jayhawk is a trusted and reliable supplier to US Toy.
Robin Simpson
U.S. Toy Company
"Best Fire Sprinkler Company I've Ever Worked With"
Thanks for being one of our preferred providers for the past 12 Years!  Your installation services are great and your design of the fire protection in our new expansion was to the letter of the codes.
We have trusted Jayhawk with our service and inspections since 2007 and have only great things to say about how well you respond to issues as well as ongoing maintenance services.
I was delighted when Code Red Fire extinguisher service was established some years back, which provides us with a one-stop source for our fire protection.
Having been in senior living for over 40 years I can truly say Jayhawk is the best fire sprinkler company I have ever worked with.
Bob Woody
Santa Marta Retirement
"Our First Call and #1 Service Providers"
We have a long-standing relationship with Jayhawk. Over the years you have become our first call and #1 service providers. We continue to use your team because of the excellent service and unmatched response time to our needs. We trust your knowledge and respect the way you conduct business. It is not often that you find a contractor that you trust 100%, but you guys have done it! We appreciate the fact that your first priority is taking care of us as a customer and not what your profit will be. Thank you for the excellent service, we appreciate your efforts.
Scott Hamblen
Block Maintenance Solutions